My name is Ludwina Akbulut-Van Oosterwyck, I was born in Belgium and I have been interested in textiles and weaving as long as I can remember.

Training :
-Textile Institute for Decorative Art, Antwerp/Belgium
-Restoration and conservation of pre-industrial textiles, Ghent/Belgium

Group exhibitions:
-1989, Antwerp
-1990, Antwerp
-1990, Brussels
-1990, 8e International Biennale of Miniature textiles Szombathelyi Hongary.
-1991, Antwerp


On Sunday 18 May 2008 I received Artisan Status at IGMA (International Guild of Miniature Artisans).
I am living in Selcuk/Ephesus, Turkey since 1993

When you visit Turkey, I would love to meet you!

How I started knotting miniature carpets:

When I left Belgium for Turkey I had to restart my life; I left so much in Belgium including my looms.

Here, in Turkey, I found a small silk loom so I started weaving. First I wove a little kilim because the required technique is close to those I used before.

Then I wanted to try to knot carpets. So I started with small ones, playing with old designs and creating new ones. I remember the first small carpet I sold was to a Dutch customer for a dollhouse. I wove normal quality carpets in small sizes for 8 years, building up experience in knotting carpets and creating designs. I always tried new things and when I discovered an old technique I was attemting to knot it on my loom when a customer (carpet dealer) came to have a look: "You are making a miniature Turkmen carpet" he said. And this is what made me think to make miniature carpets.

I like challenges so I wanted to give it a try. They are very fun to make. Every carpet is a new design... and I love to try out new styles.

The first months I tried to make miniature copies of real existing, mostly nomadic, carpets. But by getting more experience in making the designs and knotting them I refined them more and more and then I started the silk carpets which are the most refined of all.

I still enjoy designing and knotting them! And I hope you will like them too...
I will add here the latest news about me and my work:
On 15 -16 November 2008, I had a table at the 'X Feria Internacional De Miniaturas y casas de munecas' in Madrid. It was a very nice experience and I hope more fairs will follow.
Here is a picture of my table, and my Spanish friend:
My table at the Tom Bishop Chicago International 2010.
For the first time I am happy with my display!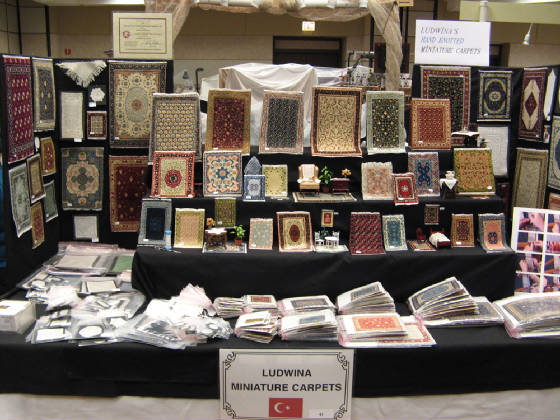 And Madrid November 2010: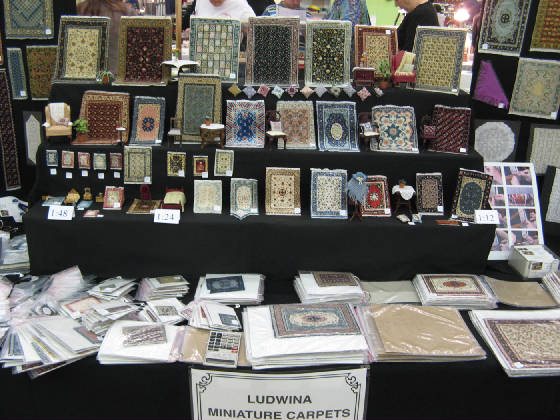 Chicago International April 2012: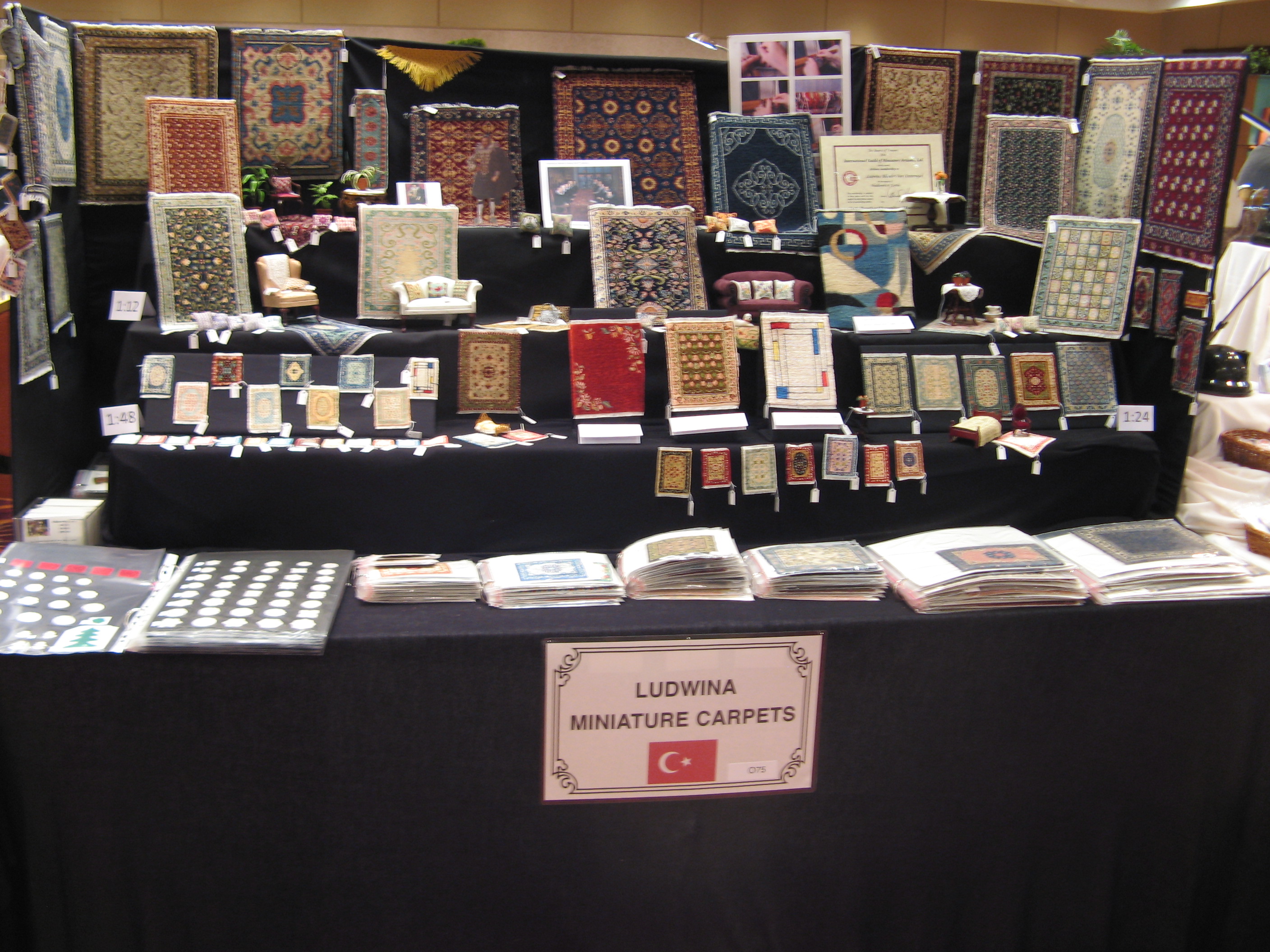 PUBLISHED:
-Several of my carpets can be seen in the Spanish miniature magazine 'Miniaturas Construction & Colleccionismo' issue nr.131 in the article and the pictures of the 'Maggs House' page 26 -31
-An article about me: 'Ludwina's Magic Carpet Ride' appeared in 'DollsHouse and Miniature Scene' January 2009 issue 175 on pages 33-34-35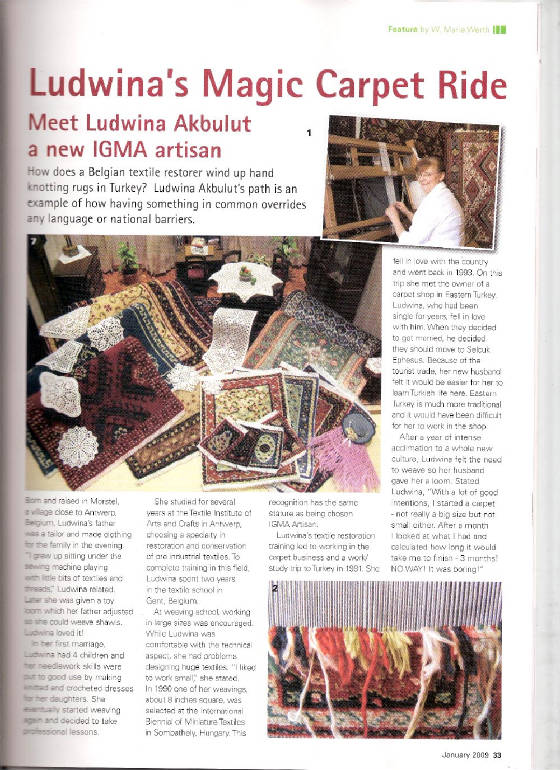 In the October issue of the Dollhouse Miniatures Magazine :