This WS was getting old and out of date, so a new one was created. Please find me here: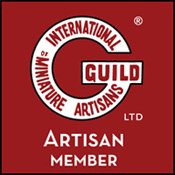 For centuries carpets have been traded between the Orient and Europe and later America. Carpets of Caucasian, Turkmen and Turkish origin have been used in interiors of different styles for a long time. Painters of the 16-17-18-19th centuries depict these carpets in their work.
The fine floral motifs found in workshop carpets became fashionable at the end of the 19th century.
For some of my carpets I found inspiration in existing carpets and styles; yet others are fantasy... I hope you will like them as much as I do!


My carpets are all hand-knotted, therefore they can be treated as 'real' carpets (washed, etc.). All of them are unique pieces, each is one of a kind! I make a new design for each piece and do not make the same again.

If you have special requests for custom colors or sizes, please send me an email. If possible, attach a photo of the 'decor' where you would like the carpet to be. I will be pleased to create a special carpet for your doll house.

NEW:
I can now accept payment by Paypal! There are 'buy it now' buttons UNDER each piece.
More detailed information:

I work on a small Turkish silk loom. To knot carpets I prepare the loom, putting warp on it. The material used and the way it is put on the loom defines the number of knots possible and the density of the carpet, which is important for making miniature carpets.

When the warp is ready I can start to weave wefts and make a line of pattern by tieing the knots in the different colors to form a design: working upwards in lines of weft, knots-weft, knots and so on.

Here you see my loom. I am starting a new line of knots on one of my silk miniature carpets...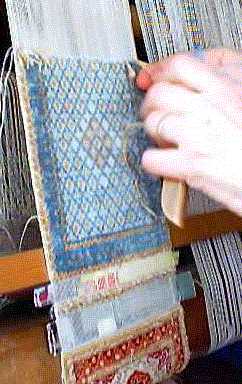 I am member of the Online World Wide Community for Miniaturists "THE CAMP" It's a very supportive, informative and sharing environment. Subscribe Free at: THECAMP-subscribe@yahoogroups.com